E-commerce Development
Ecommerce development is the process by which an online retail business is structured and can work properly. The process covers different aspects, like enhancing the supply, collaborating with a shipping company, and developing the network. Another aspect to develop in the case of eCommerce development is ensuring proper marketing and customer communication. No eCommerce website can provide services properly if any of the above aspects aren't taken care of. Ecommerce website design and development covers all the activities aimed at the creation, maintenance, and evolution of a web store. Team up with Science Soft to find all the competencies needed for your ecommerce project success under one roof.
E-Commerce Solution
Flexible , Secure and highly scalable e-commerce solutions that help you maximize your revanue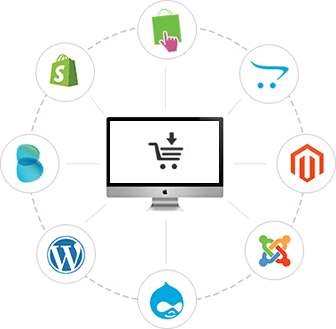 E-commerce solutions are the products and services that help a company conduct business electronically. The range of available e-commerce solutions is vast, including those that allow traditional businesses to design, create, and operate World Wide Web sites. Some solutions focus on a specific problem. For example, a company selling its wares via a World Wide Web site might purchase a bandwidth management solution from a firm like Packeteer Inc. in an effort to allocate more resources to actual commerce transactions than to other applications. Similarly, an electronic merchant who wants to improve the online checkout process for its clients might turn to a specialized vendor like Virtual Cart for a shopping cart solution.
Types of Services
Magento Development
OpenCart Development
Shopify Development
Zend Cart Development